Hello lovely people, I'm a little late posting tonight as it's been a busy day in boring ways! we went for a wander around the village today as it's been the most sunny and beautiful day by far. These are my fabulous sale hauls from yesterday afternoon. They were all purchased in River Island and I am so pleased with them!


First up, the cardigan. I had actually been in search of a jumper, and they did have a jumper, but as the sleeves were short on it I chose the cardigan. I am delighted with it - it's soft, a beautiful knit, and in my opinion a gorgeous everyday throw-on cardigan. It's all in the detail with this one, and the way the sleeves are cut to sit slightly off the shoulder just adds to it's appeal. This was my most expensive buy - it was £17 reduced from £38 - what a bargain!!!


Secondly, the most gorgeous little bag I have laid eyes on in a long time! I fell in love with this bag, I didn't particularly want a new bag, but as soon as my eyes fell upon it I knew I had to have it. I had a while ago wanted a fringed bag, but had never found one that was quite right. This will add a much needed splash of colour to my outfits. It's a gorgeous teal coloured soft suede, with studded detailing on the front and a long shoulder strap. Perfect! I bought this for £15, reduced from £35.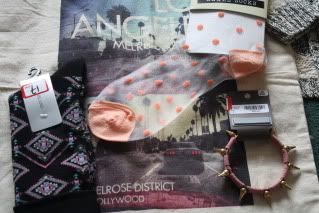 And these are a few other bargains I picked up. I was in need of a simple tote bag to put my OU books in, so that I can take them to work with me etc easier. I picked up the one above for £2, reduced from £5 - it will do the job! As always I bought more socks, a black and multicoloured aztec pair for £1 (from £3), and my favourite pair of socks ever! These sheer ones with peach coloured polka dots over the top - aren't they lovely?? They were also just £1 from £3. Lastly, the pink suede and spiked bracelet was also a steal, a bargain £3 from £9.

So I definitely recommend checking out the River Island sale - there was so very much of it in the Liverpool store that it's quite daunting. But if you know what you're looking for, it's much easier!!!


This is the time old blogger favourite, what I wore today. Cardigan - River Island, tshirt - Ramones by Amplified, jeans - Stokes by Wrangler, battered old trainers - New Look, spike necklace - New Look, leather chain earrings - Miss Selfridge, pink suede spiked bracelet - River Island, teal suede bag - River Island, LA shopper - River Island.

I hope you've enjoyed reading my blog today, I haven't had a chance to catch up with my reading list yet but will get on to it tomorrow :) hello to my new followers!! I appreciate it so much :)