This morning Mark & I woke up to this lovely envelope sent from home. It was from my younger brother and sisters - Phoebe, Phoenix and Indigo. I love it when they send pictures and letters :) it was in reply to the treat box I sent home last week.


The first one is from Phoenix. It says on the front, sorry about the colouring, he got bored!!! Inside reads 'To Mark & Hannah, thank you for all the sweets and I can't wait until you come back I'm missing you already! My favourite sweet was the lollies, the whistle lolly and the winders and the marshmallows! I enjoyed my holiday! Please write back. Love from Phoenix xxx"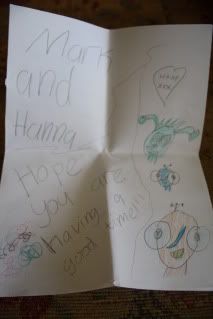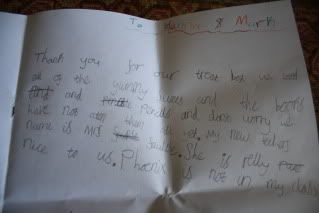 This one is from Phoebe. "Mark and Hannah hope you are having a good time!!!" and inside "To Hannah & Mark. Thank you for our treat box we loved all of the yummy sweets and the books and pencils and don't worry we have not ate them all yet. My new teacher's name is Mrs Faulks. She is really nice to us. Phoenix is not in my class. Love from Phoebe xxx I am expecting a card back from both of you"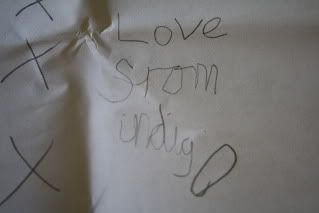 This one is to me from Indigo, I think Phoebe or Phoenix (not sure which with this joke!!) wrote the inside for her which says "Dear Hannah, I've got a joke doctor doctor I keep thinking I'm a bee! Oh buzz off. I loved the treat box. Love from Indigo xxxxx"

And this last but not least this is a "Monster for Mark" from Indigo. Inside it says "To Mark, I hope you like my card because I'm expecting a card back! Love from Indigo xxx" :)

Hope you've all enjoyed your Thursday! I have had a very lazy day, involving nothing much more taxing than washing my hair. Now it's soap time on TV! Enjoy your evening :)