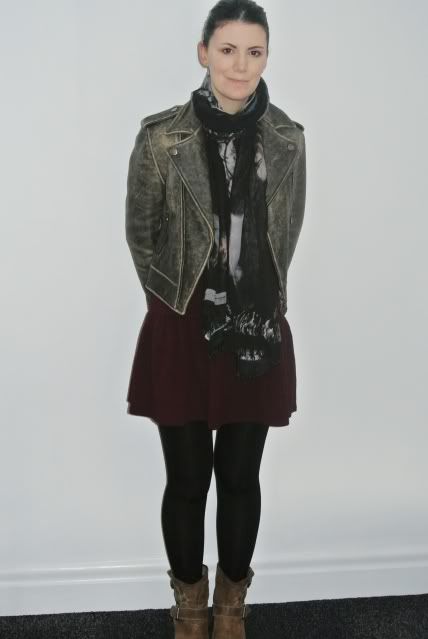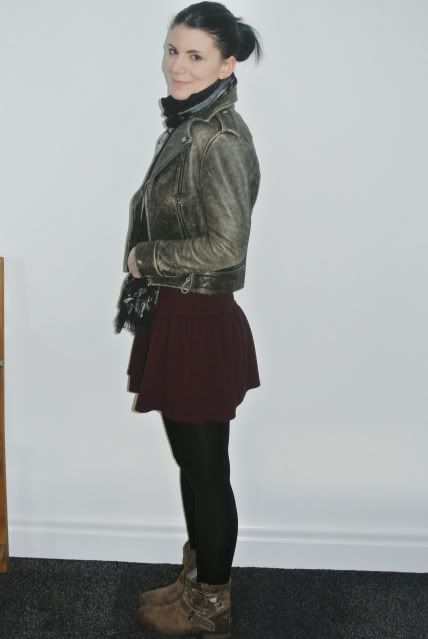 Today has been super lazy, bar a walk down to the supermarket to get a few bits in for dinner. Mark went to play squash at 8.30 this morning, so I stayed in bed for an hour reading book 1. I decided to wear my new dress, I picked it up in the sale at Miss Selfridge after Christmas. I deliberated, I left the shop, I deliberated some more, and then I went back and got it. It's the perfect shade of burgundy, has a drop waist, a keyhole back and it is the most gorgeous textured material. It feels lovely on and was reduced from £37 to £18, bargain! I decided to try out my new Primark Super Cosy tights. I have no idea how I'd never known about these before now, but oh my god! They are the comfiest, warmest, bestest tights I have ever worn! They have the softest microfiber lining, and if you don't have any, go to Primark and get some now, you are seriously missing out! They cost just £3.50, and one pair definitely isn't enough. I think they even did different colours, I'm definitely going to get more of these amazing tights. I paired this outfit with my Luella biker jacket, my BullBoxer boots and my fab new All Saints scarf...

I am totally in love with my scarf, and had been lusting after the perfect scarf for ages. I am a scarf person, scarfs are my thing. So when my mum got an All Saints scarf earlier in the year, with beautiful blossoms on it, it kind of set the standard. This scarf was a Christmas present from my mum, and did I say I love it? I will stop talking about my scarf now... you can find it here on All Saints.

Now, I'm off to enjoy a lonely Saturday night as Mark is in work until 10pm. I'll be catching up on some uni reading before checking in with Paddy for Take Me Out (addicted to this show!).