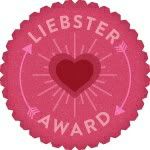 The lovely Margaret over at Roaring Twenties has nominated me for the Liebster Award - I feel so priveleged to have made it on to the list! I have done this before, but I'm going to do it again anyway :)
The Liebster Award is given to bloggers, by bloggers, and is an award that can only be given to blogs with less than 200 followers. When you're tagged, you have to nominate people yourself, and it goes on and on! I think this is lovely for new bloggers, or for those with not so many followers. Speaking of followers, I would just like to say a big hello and thank you to the few people who have started following my blog in the last few days, and also all my followers, I can't thank you enough and I feel so privileged that anyone that reads my blog :)


Margaret's questions:
1. Why did you start blogging?
There were a few reasons, I am useless at keeping a diary but hooked on blogging, so this way I get to keep a document of things that are happening in my life without having to tell myself off every day/week/month because I haven't filled in that little book that never gets used! Also, I wanted somewhere to share my drawings/paintings :)
2. If you could live in any era, which would you choose and why?
I was born late in the 80s, and so I guess that makes my era the 90s. To be honest, I loved growing up in my era and enjoyed all the things associated with the late 80s and 90s.
3. What is the most exciting thing you've done/greatest achievement?
This is a tricky one! The thing I'm most proud of myself for that has happened in my life, was helping my mum to take care of my dad when he was sick with cancer. It was very tough, but there wasn't a point during the whole process that I allowed myself to think I couldn't do it. It was something I not only felt I had to do, but I wanted to do it. I wanted to spend all those last precious times with my dad, I wanted to look after him. It's only when I reflect on that time now, how much I miss my dad, and some of things we all went through, that I realise exactly how tough it was, and all the things that I don't know how we got through. So it isn't exciting, and probably isn't really an achievement either! But I'm very proud of how I coped :)
4. If you could only ever eat one for the rest of your life, which: chocolate or crisps? (ooh!)
Chocolate without a doubt! I do like crisps occasionally, but I am through and through chocaholic if there ever was one!!
5. What's your favourite film/most treasured DVD?
My answer to this has always been Matilda! I love that film, it's been my favourite for so long. I love anything Disney as well. For a more grown up choice, one of my favourite films is called The Prestige - it's about magicians. It's amazing and I definitely recommend it to anyone.
6. Do you think white marshmallows and pink marshmallows taste different? (I plan to use your answers to settle a debate with my friend...)
I think they taste the same!
7. What is your favourite high street shop and why?
It would probably have to be Topshop. I know this is what loads of people would say, and I don't even buy that many clothes from there, but I love walking around the shop. I love seeing what's new in there even if I wouldn't buy it. I also love the make-up range and the collaborations.
8. If you were a cartoon/film character, who would you be AND WHY!?
I would be Peter Pan, so I never had to grow up!
9. Favourite pair of shoes? (bonus points for a photo so we can all have a peek...)
I have a post about this right here :)
10. What did you want to be when you were little? - taller doesn't count
I don't know if I really knew what I wanted to be, one thing I did know was that I wanted everyone to be happy and I always wanted to be with my family.
11. Morning person or night owl?
A bit of both! At my mum's house, we get up so early and it doesn't bother me at all - I like making the most of the day. But when I'm with my boyfriend, we tend to stay up later and consequently get up later!

My nominations:
1. Victoria at Walk In Your Own Shoes
A California girl who'd love to visit the UK! A genuinely lovely person, and a really great blog!
2. Kate at La Fresne
The most dreamy, romantic blog full of vintage treasures and poetry.
3. Amie at Credit Crunch Chic
Takes serene & gorgeous outfit photos, finds the best charity shop bargains.
4. Hari at At Rubik
Beautifully crisp photos, simple posts, gorgeous layout.
5. Rebecca at Bandasaur
Stylish, pretty thing and fellow creative.
6. Danielle at Danielle's Discerning Eye
The best kind of reviews - some of my favourite to read, gorgeous nail designs.
7. Kerry at Kerralina
Shares the most lovely images, a columnist & jewellery maker
8. Rachel at Rachel McIlmoyle
Has the most gorgeous long hair, and impeccable taste!
9. Aimee at The Lost Girl
Photographs in gorgeous places, beautiful scenery, and a pretty lady!
My questions:
1. What inspires you?
2. What do you never leave the house without?
3. If you could only wear one colour, what would it be?
4. If you could only shop in one place for clothes for the rest of your life, where would it be?
5. What is your favourite season and why?
6. Where is your favourite place to visit in the UK?
7. Stormy weather or calm blue skies?
8. What do you think is your best feature? (can be physical or mental!)
9. What is your favourite smell?
10. What is the most embarrassing CD you own?
11. What is your favourite song?
I hope everyone enjoys checking out these lovely ladies' blogs - I know I love reading them! I'm looking forward to seeing all the answers to these questions too :)