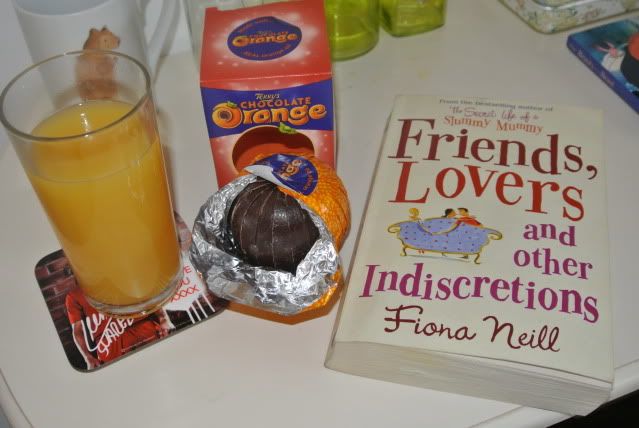 But first up, the image of a perfectly lazy Sunday. Because now it's Monday, and all it did today was hail and sleet and be gloomy! My Sunday on the other hand, was spent lazing around finishing my first book of the year, eating dark Terry's chocolate orange and drinking the perfect mix of orange and apple juice. Heaven!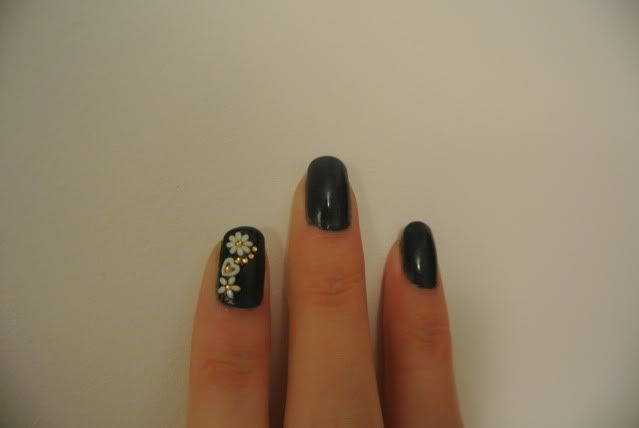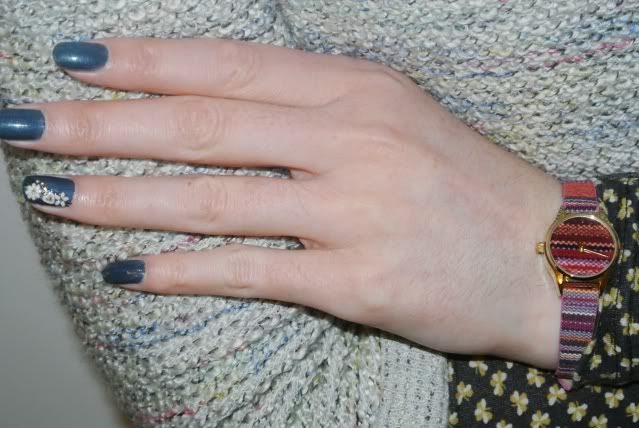 Saturday evening provided the perfect opportunity for me to paint my nails, something I've been slacking on lately. Mark was at work, Paddy was on the TV, and I had some lovely new nail decorations for Christmas. Mark's mum got me these 3D flower stickers amongst others, so I thought I'd try them out. The gorgeous shimmery blue is a h&m nail polish from a set of five. I did two coats of the blue, before adding the nail sticker to two accent fingers, and finishing with top coat. It's lasting incredibly well, and I love the 3D nail stickers!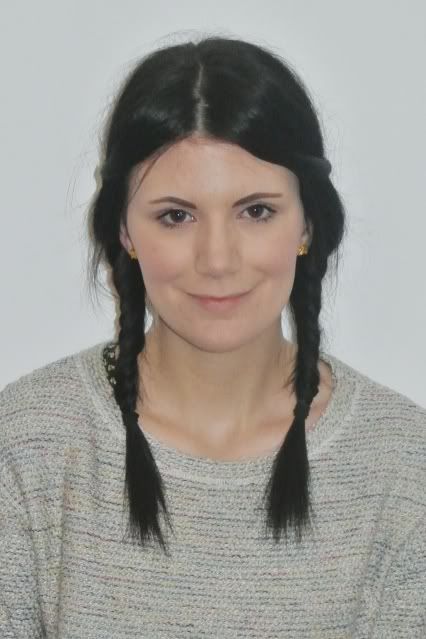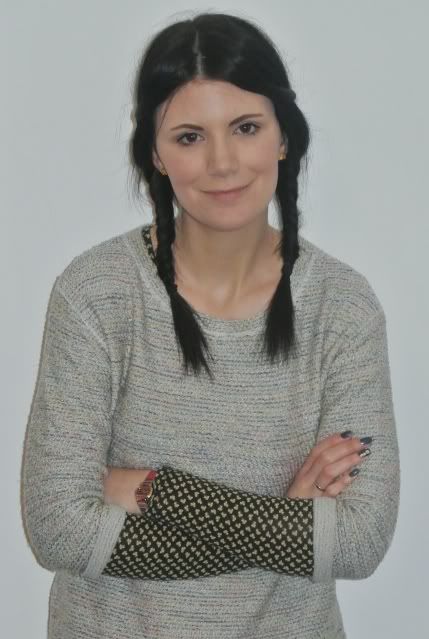 And finally, my outfit from today. As mentioned, today's weather was awful! We had a few flurries of snow yesterday afternoon, but since then it's alternated between heavy rain, hail and a bit of sleet! Not nice at all. So being the lazy soul that I am, I tied my hair into two fishtail braids and pinned back my fringe. It's not a way I'd usually wear my hair, but for a day like today I think I just about got away with it! And since the only things I did were visit the supermarket and the doctors, who needs stylish hair! The underneath top is a long sleeved thermal top from a Uniqlo x Orla Kiely collab. I love it so much, it's very comfortable, the loveliest shade of dark green, perfect for layering, and has a gorgeous ditsy print. I picked it up for under £10 on the Uniqlo website before Christmas. I couldn't wear it until after as I bought my mum exactly the same one as one of her Christmas gifts - my mum's always cold so I thought a thermal would be a good choice! The knitted sweater is from Topshop, and was my only other post-Christmas sale buy. It was £10 from £26, and it is so comfortable if not stylish!

The doctor has requested me to go for an x-ray of my back due to some problems I've been having, so I'll be popping to the hospital on Monday for that before travelling back to Leicester for my other appointments! I also have to restart the dreaded B12 injections... I was hopeful when I heard my levels had gone from 150 to just over 500, but the doctor was quick to inform me that since that was 3 months ago, it will have undoubtedly dropped now. In better news, I had some funny patches on my legs for a while that the doctor told me were thread veins. Since his diagnosis which I never really believed anyway, they've disappeared and reappeared, and now I'm told they 'could be eczema', so all is well, I won't be needing that cosmetic leg surgery after all ;) (note my sarcasm, I am not a getting my legs out kind of girl!).