Last night, Mark & I went over to Anfield to watch Liverpool play against FC Gomel. It was my very first experience of a football game of this size! (The only other having been at Tranmere Rovers!!). I have never really been into the football, but as it is one of Mark's great loves I have learned! It was a great night, the atmosphere was amazing. Watching all the players warm up on the pitch was hilarious - just like a Saturday morning dance class back in the day, doing skips and jumps from the corner. Liverpool won 3-0, and were really fascinating to watch in real life. We met Mark's uncle Paul afterwards, and traveled home with him.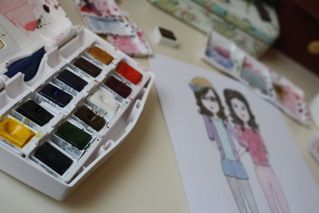 Just a couple of sneak previews of a painting that I was commissioned as a gift. I will post the full thing when the person has received it :) I have enjoyed painting again, sitting at my desk in the window with the sunshine streaming in. Lovely!

How has your week been? Do you have many plans for the weekend? I, unfortunately, am working all day tomorrow. But Sunday will hopefully be spent lazily wandering around, and probably doing a little bit of studying. I handed my last assignment in at the beginning of the week, so I'm anxious to see how I did.