Hi lovelies, I hope you don't mind but this week for Handmade Monday, I'm cheekily featuring my own design on a
cushion competition that ends today on Ohh Deer. Ohh Deer is a wonderful website full of artsy products, and I've
quite a few things that are on the website. My particular favourites are two cushions by Sandra Dieckmann. Oh, guess
what one features? You got it, a bear! I'll definitely be featuring Ohh Deer again on Handmade Mondays, but for now...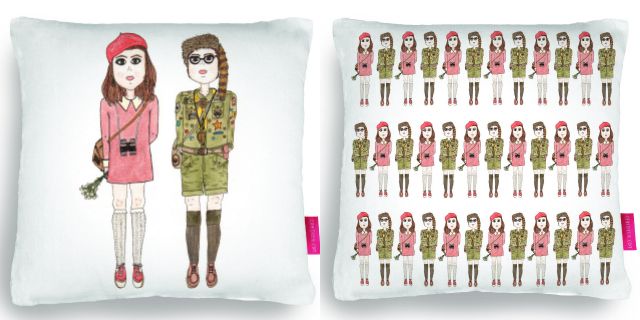 01. dear Suzy, dear Sam... by yours truly
The first design is a full sized illustration of Suzy Bishop & Sam Shakusky, as originally drawn and painted in watercolour
by myself. These cushions are absolutely gorgeous, as I said before I own two already. The quality is fantastic, they're
Vegan and the back is made from super soft faux suede, with a fibre insert. They measure 43x43cm and are machine washable.

02. Suzy, Sam, Suzy, Sam by yours truly
This cushion is the same again, but there are multiple Suzy and Sams! What more could adventure loving folk want than the
best adventurers themselves on a cushion?!

If you love Moonrise Kingdom, or your friend/partner loves Moonrise Kingdom and you'd like to buy one of these cushions, you must act quickly! They are available for one week only, the shop closes 11th November.

Facebook // Instagram // Bloglovin' // Pinterest