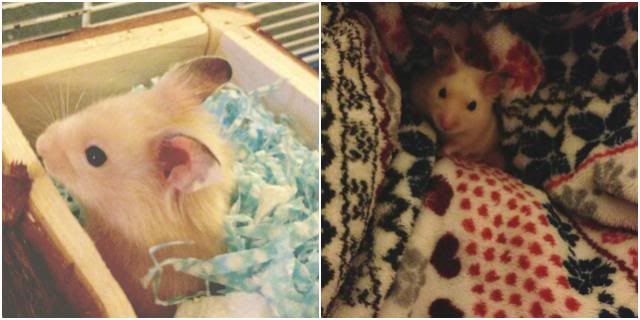 Hello lovelies, I thought it was about time I introduced you to Mark & I's new addition. Meet Rufus, our baby hamster. We brought him home on the 16th September, we've had him for nearly a whole month and I don't know what I ever did without him! He keeps me company when Mark is working late, and I miss his furry little face when I don't get to see him.
♥
He entertains and amuses me endlessly, the pictures below will show you some of the ways how!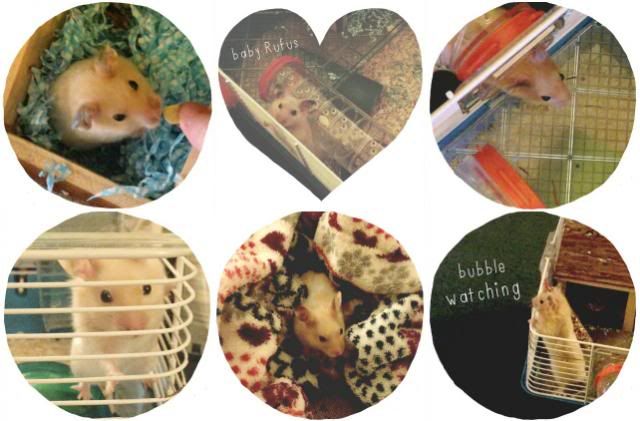 1. I always give Rufus a little yogurt treat when I first wake him up, sometimes if he's feeling especially lazy, he'll only poke his head out of his bed to take the treat and go back to bed! 2. Rufus likes to climb up between his cage and his tunnel to say hello 3. He loves his tunnel, he spends half his time running back and forth in there, rolling onto his back and squishing himself through so he's facing the opposite way (if he gets bigger and carries on, he might get stuck!) 4. One of our first photos of Rufus, when he was still quite tentative with us but getting more curious 5. When we got Rufus I told Mark I'd like to get him a blanket, Mark told me hamsters don't like blankets... Rufus has adopted my blanket as his own, and he loves it! 6. Rufus stands at the edge of his cage to watch TV, or the bubble screensaver on my laptop!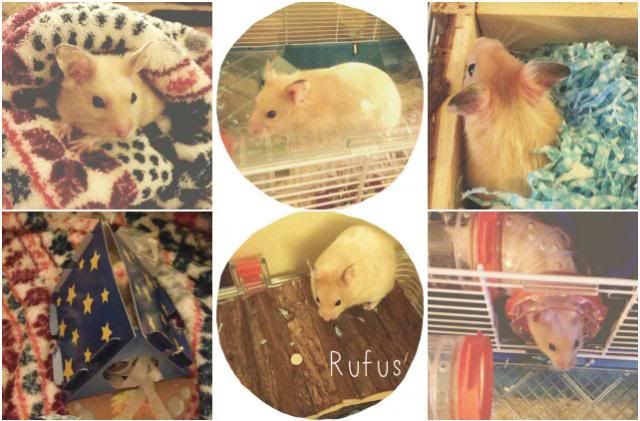 7. Rufus snuggling up in my blanket on the sofa 8. Rufus sitting on top of his tunnel 9. Look at those tiny little ears! When it's really cold, I leave extra bedding for Rufus downstairs in his cage, he gathers it in his cheeks and takes it to his bed (he fits SO much in his mouth!) 10. Rufus the adventurer! Can you see his little nose peeking through the top of his tent? 11. Rufus sitting on his roof - his namesake! 12. Playing in his tunnel again, he likes me to pick bits of his food out his bowl and give them to him, he takes them in his tunnel and eats the 'good ones' and leaves the 'bad ones' untouched!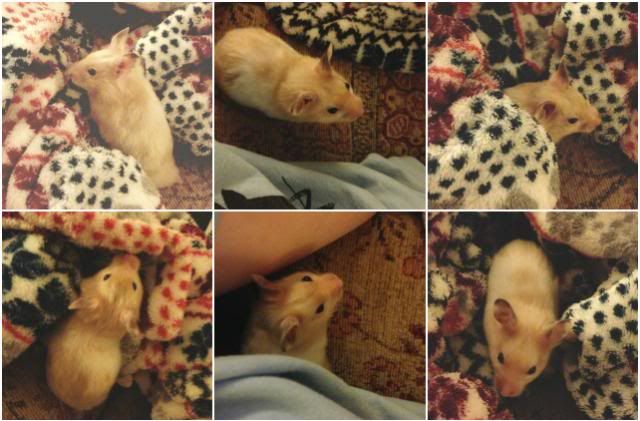 13. Whenever Mark is in another room, or coming down the stairs, Rufus' little ears prick up and he stays like this until Mark comes in 14 & 15. Playing in the blanket 16. Pushing the boundaries haha, I make the blanket so that he can't escape, but sometimes he likes to see if he can 17. Having snuggles, sometimes he's so calm he just snuggles in between my arm and side 18. Blanket snuggles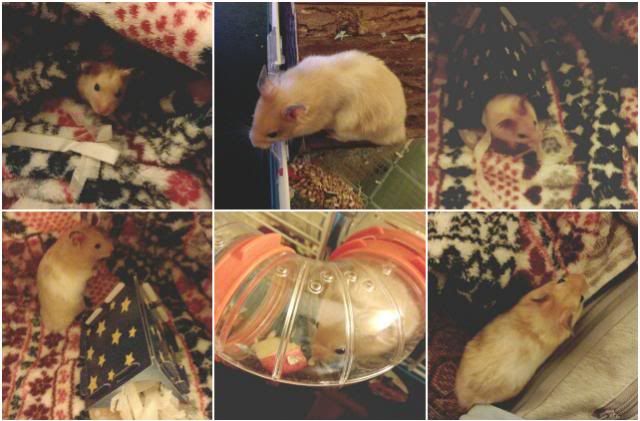 19. I make Rufus caves out of the blanket and he loves exploring 20. Rufus on his roof contemplating the great escape, he still hasn't braved it! 21 & 22. Tent playtime! 23. Eating apple in his tube, occasionally we give him a tiny chunk of fresh apple or half a grape, he does have dried fruit too 24. More sofa snuggles!
♥
Did you enjoy meeting our fluffy little baby? It's time to wake him up and give him fresh food now :) if you'd like to see more photos of Rufus, I post them on my Instagram as linked below.

Facebook // Instagram // Bloglovin' // Pinterest