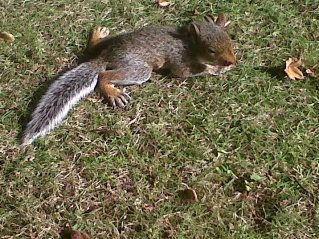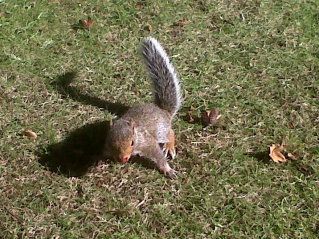 Little did I know when I put my squirrel patterned socks on this morning, that I would be embarking on a squirrel saving adventure. Mark & I saw this little squirrel outside the library after we'd popped into the village. I was fascinated that I could get so close to him, and then after taking these photos realised he was injured. We deliberated over what to do, as he kept trying to climb the tree but every time tumbled back down. We settled on popping in to tell the vets on the way home.

The vets gave us a box. We went home, unsure of what to do. But both felt sad at abandoning the poor little squirrel. So we armed ourselves with crackers (what else for a squirrel? we had no nuts!), 2 tea towels and the cardboard box. Mark got some thick gloves from work, and we set about saving him. Mark picked him up and put him into the box, and we took him to the vets, where he has hopefully now been seen to & is resting. We will call up tomorrow and find out :)

We both feel better for saving him, and have officially named ourselves squirrel heros :) haha, hope you are all having a lovely day.