Recently, I was tagged by both Chloe and Jemimah for the Liebster Award. The rules seem to change but it's an award that gives recognition to bloggers with not so many followers. It's a great way to find out more about your favourite bloggers, and to discover new blogs.



Chloe's questions:
Favourite holiday memory?
I have so many, but I'm going to pick one that reflects how I feel lately and that is nostalgic. One of my
favourite holiday memories, my whole family was on holiday on the English coast and my dad woke
me up super early to go down to the beach. He wanted to take photos of the sunrise, click here to see one.
Have you lived in another country?
No - and I wouldn't want to leave my family/friends behind!
Dive to the deepest parts of the sea or explore space?
Space exploration please :)
Show me your favourite cup/mug
Click here to see it on my Instagram.
Mac or PC?
Laptop
Books or a film?
Books, followed by the film so I can complain how unlike the book it is haha.
What's your regional dish?
I come from Leicestershire and after a quick Google, apparently our regional dish is curry. However,
living on the Wirral I'd say the regional dish here must be scouse!
Flats or heels?
It used to be heels but I'm a flats girl all the way now, I choose comfort and being steady (my balance
issues don't really allow for heels unless I want to sit down)
Favourite smell?
Is it really bad to say the smell of food I like cooking? haha, but if you mean perfumes, then Naughty
Alice by Vivienne Westwood is a firm favourite.
Favourite tradition?
Visiting Bradgate Park every New Years Day with my family. Last year's photos here and here.
Online shopping or being out and about?
Both!!



Jemimah's questions:
You're allowed one item of make-up. What do you choose?
Tinted moisturiser, a bit of moisture and a bit of coverage
What is your earliest fashion memory?
I'm having a mental block, but one thing that comes to mind is a pair of absolutely shocking (-ly horrendous)
hot pink parachute pants, you know with the strips hanging off... shoot me now?! What can I say, I was 'alternative'
If you could travel to any place in the world, where would you go? Why?
New York, because there wasn't enough time for all the exploring needed on my first trip! Take me back :)
When did you first experiment with make-up?
When I was younger, me and my friends used to go to a disco on Friday nights at a place called "Matt's place",
I used to stick shiny stars in the corner of my eyes haha
What TV show could you watch, rewatch, then watch again?
Gossip Girl!
What inspired you to start blogging?
I wanted to somewhere to keep a kind of diary, as I'm useless at keeping actual diaries
Who has influenced your personal style the most?
I don't think there is any one person, just a combination of everyone who's worn something I've loved
What would you like to do more of on your blog?
More arty posts - I've been slacking
What is your dream job?
Something arty that I could do mostly from home
If you could, what colour would you dye your hair? Would you?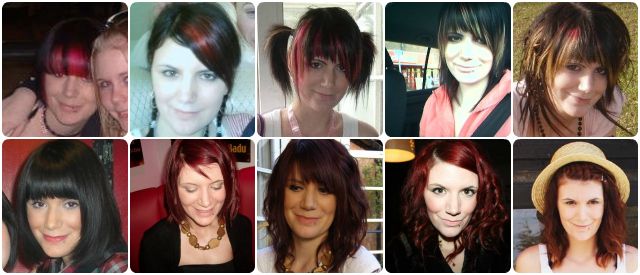 I did!!! I tried to login to my old Myspace account so I could get a photo of my turquoise hair,
and terribly pink hair, but alas it wasn't to be haha. The turquoise hair cost my dad £70 at the
hairdressers, the rest I did myself, I even cut my own hair sometimes (pretty badly!).
Are you a cat person, or a dog person?
Both!


Lauren's questions:
What is your favourite book?
I'm going to choose two, Perks of Being a Wallflower by Stephen Chbosky, and Lazy Ways To
Make A Living by Abigail Bosanko. I recommend both, the second is my perfect escapist read.
What is your favourite film?
At the moment, Fantastic Mr Fox! Makes me laugh every time..!
When you were a child what job did you want to have when you grew up?
I honestly don't think I knew, and I still really don't!
What is your favourite item of clothing?
My Luella leather jacket, or my two favourite dresses.
What are your favourite clothing brands?
Luella (sadly no more, but watch this space as Luella Bartley is to be design director at Marc
by Marc Jacobs!), All Saints, tba, Maison Scotch, Cos and Oysho to name a few.
If you had £500, what would you spend it on?
I'd buy gifts!!! I love buying presents for people, especially when money isn't so limited as
it means I can buy the things I know they'd like best.
What is your favourite quote?
I don't have just one favourite, check out my Pinterest board for some that I really like though.
What is your favourite song?
I recorded it live last year...

Where do you see yourself in 10 years?
All I hope is to be healthy, happy and the same for the people I love!
How did your blog name come about?
I took my tea with three sugars :)
Which country, other than your own, is your favourite?
I haven't explored enough to be able to say (yet!)



Now, I would like to tag anyone that wants to take part, and I would like you to tell us 11 completely random and unknown facts about yourself. Please let me know if you take part, and I'll come have a nosey :) please go check out the lovely ladies who tagged me in the Liebster award (thanks ladies!), and the other blogs they tagged too.