Hello lovely and loyal readers, thank you for coming back after I disappeared on you again! I've come back with a post of my wonderful and very thoughtful birthday gifts. I've been ill again in the last week, with some kind of Wintery bug where all I wanted to do was sleep to avoid feeling so bad. I'm much better now, but I do have to go for an ultrasound scan of my kidneys and bladder in January. The hospital actually wanted me to go in on Christmas eve for my colonoscopy, because my doctor said it was urgent, but I soon told them that wasn't possible! I'm home at my mum's now for Christmas (except a little trip to meet Mark in Liverpool on Saturday, because erm, I miss him already!). It's lovely to be able to see family & friends, and have cuddles with baby Belle.

♥ Happy birthday to my nephew McKenzie! ♥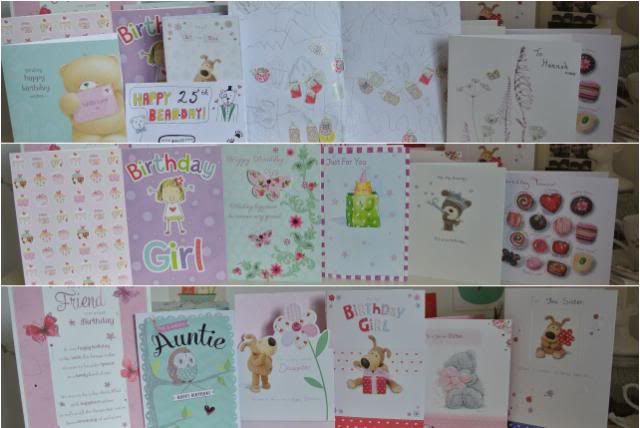 I received so many lovely birthday cards that I had to share them! I'd like to thank anyone who send me a card, present, or birthday wishes :) it's much appreciated, I loved every single one!



My main gift from my mum was this beautiful Cosmic La Sardina Lomography camera and some films - I can't wait to try it out! I love the night sky so the pattern on this camera is perfect. Mark's gifts came in this artsy paintbrush covered bag which I am totally in love with! He was really thoughtful with his labels this year and wrote down postcodes of places we've been together - such as W1D 2DH, which was The Astoria in London (now closed) where we met for the very first time at Neverender in 2008 (even though we never spoke then!). I also received Gemma Correll's What I Wore Today book, a Paperchase voucher, bubble bath, a Luella lookbook, an Orla Kiely folder and lots of chocolate!



I got the cute Harrods bear pen & teddy bear from Mark's mum and dad (how sweet!) and the floral 'capture the moment' mug from my mumma (fitting with the camera don't you think!). Family friends Lynn and family got me the gorgeous silver bear trinket box, it's so special! I don't know what to put in there yet but I love just looking at it. I also received the beautiful silver and swarovski crystal feather brooch from my family, and the gorgeous bear necklace I wanted in this Handmade Mondays post from Mark.



I received these two absolutely beautiful prints (that I did choose myself, oops!) and a mini print in a necklace. I will share more about the artist here with you after Christmas in a Handmade Monday :) Mark also got me these super sweet Oysho pjs and socks - bears and embroidered clouds and raindrops!!! What more could a girl want..!



I was extremely, ridiculously, amazingly spoilt! My wonderful boyfriend got me this gorgeous, buttery soft leather Luella bag and I couldn't feel any luckier than I already do. It is my third Luella bag now, I got a pink Gisele from my mum for my 21st birthday, and Mark got me the tan Sandhurst luggage bag the Christmas before last. It's safe to say I'm in love! Considering Luella ceased trading a good while ago now, I've been lucky and managed to get bags in perfect, new/as new, condition. I love all of my presents so much and couldn't have chosen better myself :)

Have you got a favourite brand/label that you can't get enough of?

Facebook // Instagram // Bloglovin' // Pinterest