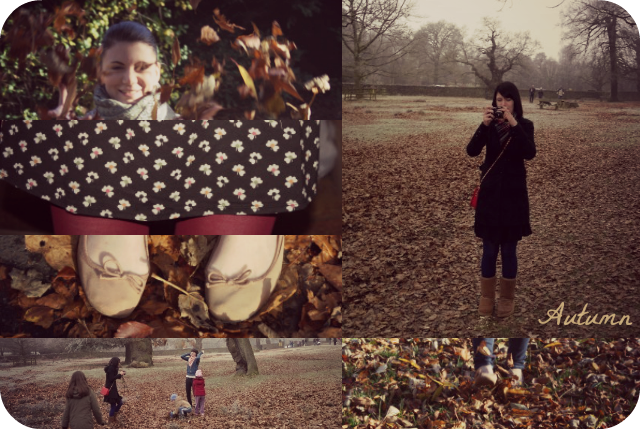 Autumn is... golden orange leaves all around, kicking them, throwing them, fighting with them, crunching through them, beautiful trees, collecting shiny brown conkers, misty mornings, your breath in front of your face, crisp sunny days with a chill in the air, wrapping up for the cold, snuggly scarves, mittens on a string, knitted hats, comfy boots, thick socks, extra layers, thick tights, cable knit jumpers, thermal tops, wearing slippers, evenings getting darker, hurrying home from work by streetlight, hot chocolate, feeling snug as a bug in a rug with the fire on, sitting in front of the fire, extra cuddles, saturday night tv, reading curled up on the sofa with heaps of blankets and cushions, halloween, dressing up, trick or treating with younger siblings/children, bonfire night, sparklers, pretty explosions in the sky, eating hotdogs, treacle toffee, an extra hour when the clocks go back...

♥

Hello lovelies, Lauren of The Emerald Dove tagged me in a lovely Autumn tag, answers to the questions are below, and if you click through to Lauren's blog you can see her answers too. I'm excited to answer the questions, as Autumn is my favourite season for all the reasons listed above!
For Autumn, what is your...
1. Favourite thing about it?
Absolutely everything, see above!
2. Favourite drink?
Hot chocolate without cream, I may or may not have started drinking hot chocolate in Summer...
3. Favourite scent/candle?
The smell of the leaves after the rain
4. Best lipstick?
I'll be sticking with my trusty Korres lip butter in Jasmine
5. Go to moisturiser?
Dramatically Different Moisturizing Lotion+ by Clinique
6. Go to colours for the eyes?
Gold and bronze (Clinique Beach Plum palette and Jemma Kidd City Chic palette)
7. Favourite music or band/singer to listen to?
Bon Iver every time, both times I've seen Bon Iver have been in the Autumn
8. Favourite outfit to wear (i.e. boots & a scarf combo)?
Skinny jeans, long sleeved layers, thick cosy jumper, boots, knitted scarf and big oversized coat
9. Autumn treat? (i.e. a new scarf or bag you have your eye on)
I'm looking to incorporate dark green into my Autumn wardrobe, and searching for a new pair of perfect skinny jeans in a dark colour!


I hope you've enjoyed this post, and I tag anyone who wants to take part! Please let me know if you do :)

Don't forget to enter my giveaway!
Facebook // Instagram // Bloglovin'